WALKER'S RIDGE CEMETERY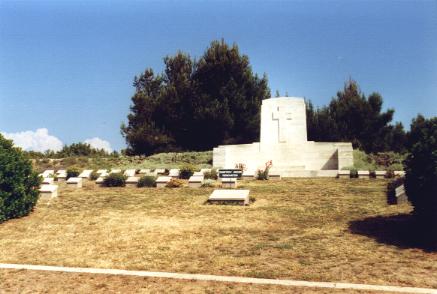 NZ - 48
AIF - 30
UK -1
UNIDENTIFIED - 12
HISTORY
Walker's Ridge was the name given to the spur stretching almost from the coast near Fisherman's Hut, south-eastwards to the middle of Russell's Top. It was, on 25th April 1915, the command post of Brigadier-General Walker (later Major-General Sir H. B. Walker, K.C.B., K.C.M.G., D.S.O.), then commanding the New Zealand Infantry Brigade NZEF. It was held by a mixed force until the 27th, when the New Zealanders took it over. On the 30th June it was held, with Russell's Top, by the 8th and 9th Australian Light Horse Regiments against an attack. The cemetery was made during the occupation and consists of two plots separated by 20 yards of ground, through which a trench ran.
LOCATION
Walker's Ridge Cemetery is 250 metres along a level track from the road, north of Lone Pine on the road to Hill 60, almost due east of Anzac Cove.
GRAVES OF INTEREST
| | |
| --- | --- |
| | Major T.H.Redford 8th Light Horse AIF |
- Killed 7th August 1915, aged 34.
- A sergeant of 8th Light Horse wrote:

" Our gallant Major, whilst facing the enemy's trench (10 yards away) in the front of his men received a bullet through his brain as he raised his head slightly to observe. He died with a soft sigh and laid his head gently on his hands as if tired. A braver and honourable man never donned uniform."
| | |
| --- | --- |
| | Trooper Harold Rush 10th Light Horse AIF |
- Killed 7th August 1915, aged 23.
- Inscription on his grave reads:
" His last words 'Goodbye Cobber, God Bless you."