WALKING ARRAS
A WALKER'S GUIDE TO THE ARRAS BATTLEFIELDS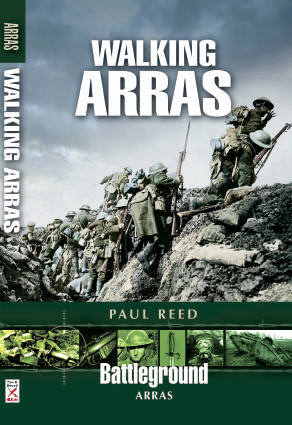 Battleground Europe series - Walking The Salient
Pen & Sword Books 2007
ISBN: 1844156192 Price: £12.99 Extent: 240pp Paperback
Walking Arras marks the final volume in a trilogy of walking books about the British sector of the Western Front. Paul Reed once more takes us over paths trodden by men who were asked to make a huge – and, for all too many, the ultimate – sacrifice. The Battle of Arras falls between the Somme and Third Ypres; it marked the first British attempt to storm the Hindenburg Line defences, and the first use of lessons learned from the events of 1916. But it remains a forgotten part of the Western Front. It also remains one of the great killing battles of the Great War, with such a high fatal casualty rate that a soldier's chances of surviving Arras were much slimmer than even the Somme or Passchendaele. Most soldiers who served in the Great War served at Arras at some point; it was a name very much in the consciousness of the survivors of the Great War. Ninety years later, while there has been development at Arras, it is still an impressive battlefield and one worthy of the attention of any Great War enthusiast. This book will give a lead in seeing the ground connected with the fighting in 1917. Making a slight departure from the style of the previous two walking books, the chapters look at the historical background of an area and then separately describe a walk; with supplementary notes about the associated cemeteries in that region.
Comments on Amazon:
As is always the case with Paul Reed's books, the subject is extremely well researched and makes for an interesting read. The battlefields of Arras have largely been overshadowed by those of the Somme and Ypres. This guide goes a long way to fill the void and helps to give the battlefield walker a view of the terrible events which took place there.
Comments from Chris Baker's review on Long, Long Trail:
Paul Reed's "Walking the Somme" is quite rightly a best seller in its class, opening up a new way of looking at that battlefield and exposing many new sites to the casual visitor. He had a much tougher job in tackling Arras and I am glad to say does not let us down.
Comments from Alan Jennings on WW1 Battlefields:
In his introduction Paul Reed states "Walking remains the best way to see any battlefield"; and he is right. Taking a walk around any Great War area allows you to appreciate the land, the contours, the features and their relavnce to each other in a way that you cannot do when driving, even if making frequent stops. Of course, the appreciation itself requires a good understanding of the area and the action. Both Walking the Somme and Walking the Salient have been invaluable aids to me in seeing the areas they cover, and I think the new more in-depth approach taken in Walking Arras will make this an even more invaluable guide.
You can buy the book via Amazon using the link below: